Yoochang will grow as a world class company through creation of coporate value for people, technology leading the futue, greater management mind toward the world.
Yoochang will become a compnay that meets the expections of customers by realizing customer oriented management.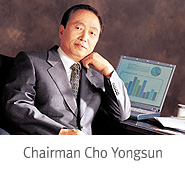 Since founded in 1974, creating new architectural space, Yoochang that has contributed to the development of the state and the society in constant heart is still stubbornly trying to create healthy and eco-friendly space where people can enjoy their life. Furthemore, for greater customer satisfaction, for their better life, and for more benefits for human, we, all members of Yoochang will make more efforts to meet their expectation on our creation in the best living space for customers and people through our customer oriented management.
In boundless infinite competition era, as a leading company in the industry, Yoochang wil fully commit its mission, and acctively cope with global management environment through the consistant innovation, and continue to manage it to the top competitive company by securing cutting edge value added technologies.
Creating corporate value for human, developing leading technology for future and realizing the greater management mind toward the world, in starting the second leap, Yoochang will establish its right values based on its core competences, and keep leading creative changes in costomer's perspective, and finally grow to a world class company fully prepared in this infinite competion environment.
This is our commitment to our customers, society and the nature where we live in.
Thank you..