MISSON
Dedication to the development of the state and the society through constant growth.
Creation of healthy and human oriented space for happy life.
Contribution to the earth nature through eco-friendly materials and constructions.
VISION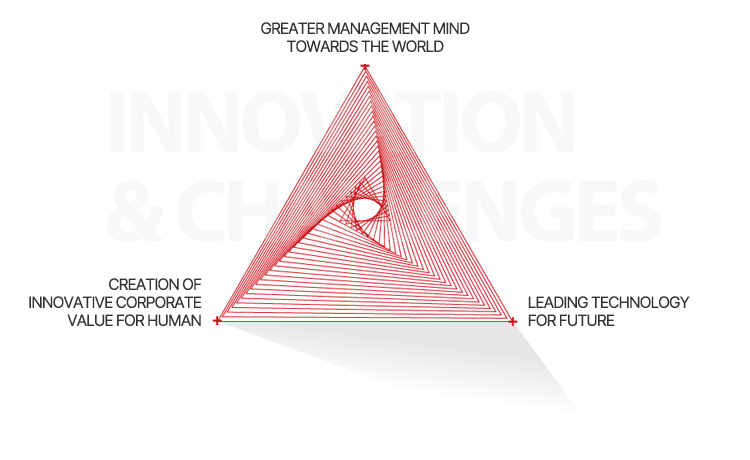 We, Yoochang, are doing our best to make a better space based on the management pholosophy that creates corporate value for human, leads technology for future, and greater management toward the world. Our changes and Innovations will be continued until our courageous challenge moves the world. For the goal, YOOCHANG is even now trying hard to change itself for its customers and partners.
MANAGEMENT PHILOSOPHY
Yoochang, creating a better building space with high quality construction materials.
Not satisfied with what we have achieved, under the mission statement "Let's forward first in one same heart" and with the management pilosohpy of creating innvovative corporate value for human, developing leading technology for future and realizing greater management mind toward the world, Yoochang is really doing its best to leap to a world class building related specialist company.
Yoochang is trying to make sure that its existing business like building material production and constrution work, aluminum extrution, smart modular housing, clean room manufacturing for a semi-conduct factory keeps growing. On the other hand, Yoochang will also challenge a total construction business company manufacturing from building materials to an integreated construction as it makes its road into general construction field in addition to building interior business.
It's worthwile to pay your attention to Yoochang's future. As a top class company that leads the construction culture of new paradime of 21st century, Yoochang will proudly do its best to take the role in responsible manner.